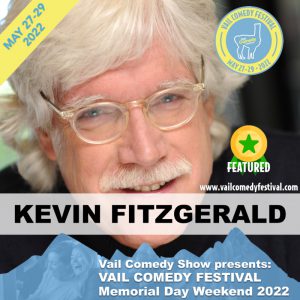 Kevin Fitzgerald (2022)
Animal Planet
/ VCF Featured Performer
In addition to be being a featured performer at the 2022 Vail Comedy Festival, Dr. Kevin Fitzgerald is providing family friendly entertainment on the Rocketfizz stage.  All performances on the Rocketfizz stage are free and open to the public thanks to Rocketfizz.
Dr. Kevin Fitzgerald is best known for his eleven seasons as one of the veterinarians featured on Animal Planet's popular Emergency Vets and E-Vet Interns. He has been staff veterinarian at the busy VCA Alameda East Veterinary Hospital in Denver for nearly 30 years. In addition, he has hosted Denver Channel 2's Animal House segment on Daybreak at the Deuce every Monday morning since 2002.
Dr. Fitzgerald lectures nationally and internationally at veterinary conferences and veterinary colleges on a variety of topics ranging from toxicology to emergency medicine to care of exotic species. Since receiving his Ph.D. in comparative endocrinology from the University of Colorado in 1978 and his veterinary degree from Colorado State University in 1983, he has published more than 150 scientific journal articles and 41 veterinary textbook chapters. Currently, he writes columns for American Kennel club Family Dog Magazine and Police K9 Magazine. He has served on the Board of Directors of the Rocky Mountain Poison Center Foundation, as President of the Denver Area Veterinary Medical Society, has been trustee on the Board of Directors of the Denver Zoo since 2009, and serves as consultant to the Smithsonian Institution for veterinary matters and for endangered species world-wide. Fitzgerald has taught his well-attended "Perspectives in Veterinary Medicine" class at the University of Denver to hundreds of students since 1985. In 2006 he was awarded the "Spirit Award" of the Specialists in Private Practice and Hills Dog Food for Specialist of the Year in private practice. Since 2007, he has assisted in 10 animal expeditions ranging from Antarctica to Mongolia to Manitoba focusing on conservation to endangered species. During college and graduate school, Fitzgerald worked as a bouncer on rock band tours for promoters Barry Fey and Bill Graham. During this time he did security for such diverse acts as Willie Nelson, The Who, Parliament-Funkadelic, and the Rolling Stones.
Apart from his veterinary side, Dr. Fitzgerald is an accomplished stand-up comedian who performs nationally. His credits include opening for Bob Hope, Jeff Foxworthy, and George Lopez, as well as multiple appearances with Joan Rivers, Kevin Nealon, and Dennis Miller. He believes that none of us laugh enough and that we are all stewards of animal life on this planet.
Shows
Animal House with Dr. Kev at RocketFizz stage

May 26 – Due to an illness this event has been cancelled, apologies.  Ticket holders have been notified and have been sent a special opportunity for close up magic and discounted candy at RocketFizz. Special free family friendly event at the Rocketfizz stage in Lionshead at Sunbird Park.  A surprise comedian appearance then comedy and […]