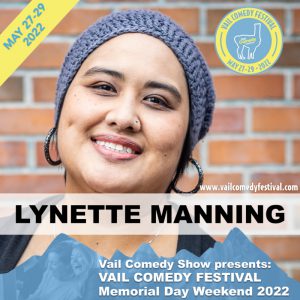 Lynette Manning (2022)
Olympia, WA
Vail Comedy Festival Official Selection
Lynette Manning is a fresh faced comedian out of Olympia, WA. New to comedy, Lynette has been performing stand-up from Chehalis to Seattle and is now a member of the Olympia based Comedy group, U Got It Productions.
Bragging rights… Out of 250+ who applied, Lynette is 1 of 30 comedians from across the country that was selected to perform at the 2022 Sno Jam Comedy Festival in Sioux Falls, South Dakota.
When Lynette is not on stage, she is busy being a business professional, new mom, and semi decent wife who Door Dashes dinner home to ensure there's an overly priced hot meal on the table every night.
Shows
The Fiver (Friday)

How funny can one comic be in five minutes?  You'll find out in this rapid style showcase Bridge Street Bar 304 Bridge St, Vail, CO 81657

Lounge Pop up Comedy Show at Cucina (Saturday)

This tiny showcase will feature a small audience and big energy in a beautiful location.  Plus surprise guests. Cucina at The Lodge at Vail  174 Gore Creek Dr, Vail, CO 81657