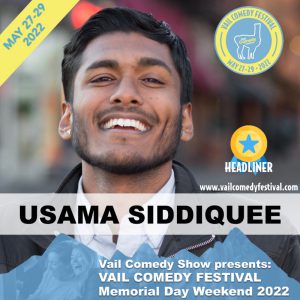 Usama Siddiquee (2022)
America's Got Talent
Vail Comedy Festival Headliner
Usama Siddiquee is a Bengali-American stand-up comedian and actor based in New York.  His act is an energetic (bordering on frenetic) and intelligent (bordering on genius) romp through his own life experiences. Family! Friends! Sex! Religion! Sex with religious friends! It's all there, and Usama slings jokes on these topics and more with rapid-fire charisma and hilarity.
He most recently was featured on the 2020 season of America's Got Talent. He traveled to Montreal as one of the New Faces at Just For Laughs in 2018. Shortly after he was passed at the world famous Comedy Cellar in New York.
He made his standup television debut on BET's 50 Central. He has been featured on Showtime's Desus and Mero, MTV's News, and Bravo's Cash Cab. He was a finalist for the 2017 NY's Funniest Competition at Caroline's; a finalist in the 2017 NBC Standup Competition; 1st place winner of the 2016 Laughing Devil Cup Comedy Festival in New York; the 1st place winner of the 2015 Yonkers Comedy Festival as well as the 1st place winner of the 2015 Make Me Laugh Albany Comedy Festival.
Usama has also featured on videos for NBC, Buzzfeed, Refinery29, The Scene, Mic.com, FusionTV, and Huffington Post.