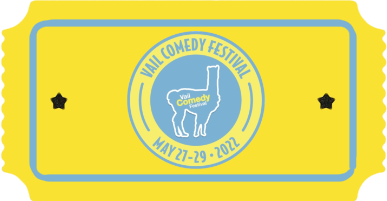 Vail Comedy Festival (May 26-28, 2023) announced ticket sales on February 1, 2022 in conjunction with ticketing partner Eventbrite. The early-bird tickets are significantly discounted to encourage early adopters to show support for the festival without knowing all of the hilarious fun they will experience.
As a first year, inaugural event, Vail Comedy Festival is still finalizing a lot of details. The fest has been partnering with venues and announcing headliner comedians and reviewing comic submissions for even more hysterical comics that will descend on the Vail valley for three super-fun days. In the months to come it is expected that as more details about what all-inclusive festival passes will include, prices will rise.
Guests of Vail for Memorial Day Weekend 2022 are encouraged to secure lodging in addition to purchasing festival passes for the 2022 event. Vail Comedy Festival is working with lodging partners now to provide special discounts to travelers.
Vail Comedy Festival is also looking for sponsorship partners to join DiscoverVail.com. Sponsorship packages for this cultural, community focused event include promotion of your business among other benefits. Vail Comedy Festival is also able to accept non-profit donations for comedy lovers looking for a tax write-off.
Tickets are available now with prices subject to change at: