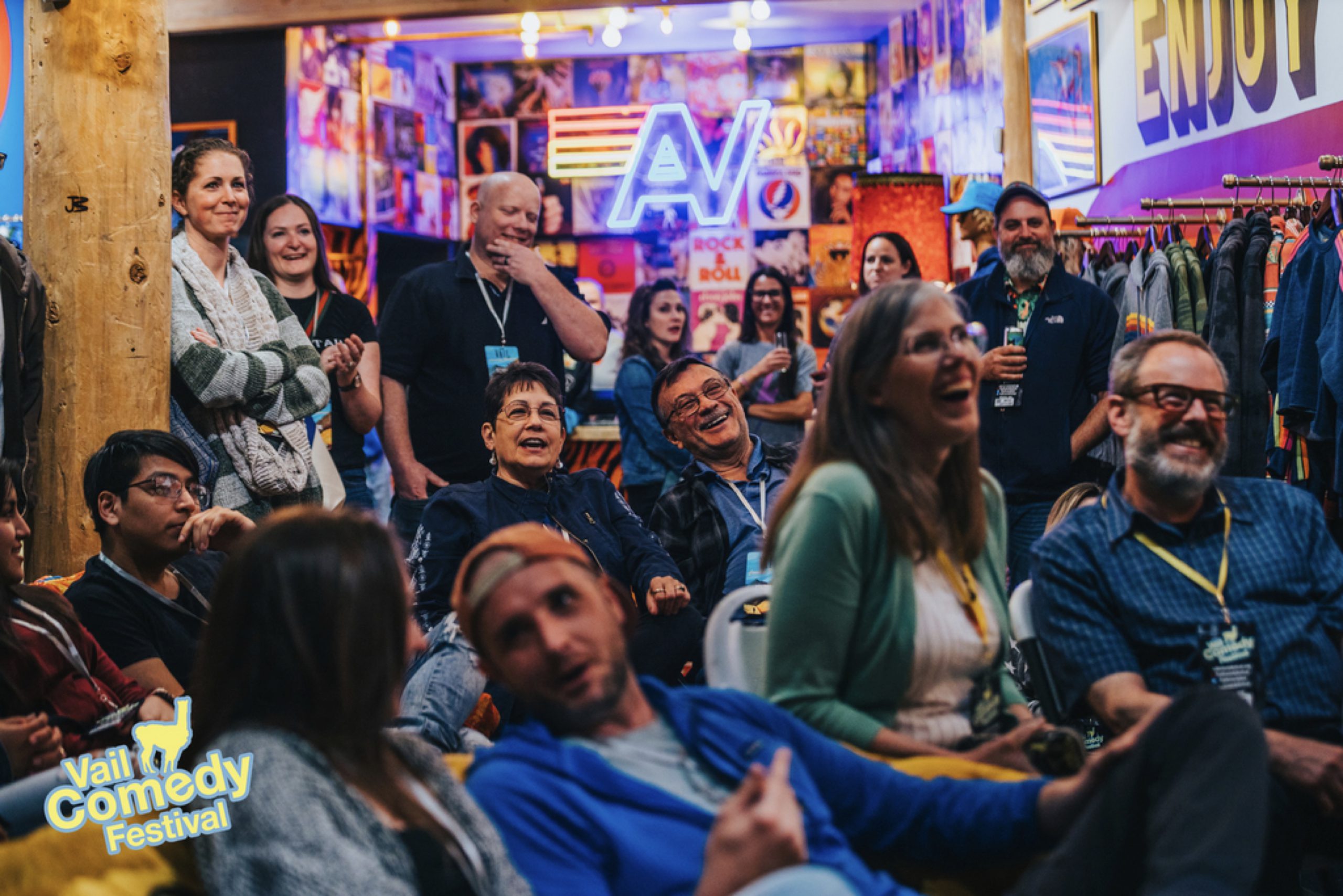 Are you ready for a good time? We got you!
Things to do at a Comedy Festival
Do you love to laugh? Did you go to a comedy show and loved it? Then what better way to have more access and more laughs than going to a comedy festival! We've written this blog post with the Vail Comedy Festival in mind, but it definitely applies to other comedy festivals too! Take it from the team who puts together and performs at comedy festivals all over the world, we want you to have an awesome time!
Tip #1: Get Your Festival Pass and Secure Lodging
Once you've decided you're going to the festival, be sure to get your festival pass and secure your lodging right away! You can check out the festival map to get an idea roughly where the venues will be. So whether you like to stay downtown in the middle of all the action or looking for a mountainous cabin for some down time, you'll find your perfect spot! Some festivals have venues all walking distance to each other and some are driving distance. You may need to plan for parking too. In major cities, you can use parking apps, like Spothero, to purchase and secure your spot ahead of time.
Many cities and towns have a tourist website (Discover Vail) that gives you tips like things to do and lodging specials. Vail has a free bus system to get you where you want to go and is bike friendly!
Tip #2: Watching Comedy Shows
Get to the venue when doors open to get settled into the best seat for you, and grab a snack or beverage if available.. Showing up later, when the show starts, may mean you'll end up standing in the back. Sitting in the front row doesn't guarantee you'll have interactions with the comedians, but you can surely stay after the show to say hi! The general etiquette for watching comedy is to laugh whenever you want and only speak to the comedian (while they're performing) if you're asked a question. In terms of topics and choice of words covered during a show, anything is possible. So unless a show is specifically described as "family-friendly" or "clean", please know that comedians will be bringing their authentic selves and their choice of words (which could include cursing).
Tip #3: Checking Out Other Performance Events
At a comedy festival, the comedy shows will be the attention grabber! But make sure to check the schedule for any other events. At the Vail Comedy Festival, you'll find live podcast tapings and magic shows too. So when you find your abs hurting from laughing too much, you can enjoy some other entertainment too! We cannot guarantee that you won't be laughing at these other events!
Tip #4: Enjoy Local Activities
Each hosting location of a comedy festival has its own attraction. Hey, that's why the comedy festival organizers chose a cool place to host everyone! Be sure to take time to explore the town and its surrounding area! In Vail, Colorado, there is an abundance of activities, like hiking, biking, flyfishing, horseback riding and much more. The best way to find things to do in and around Vail, online, is DiscoverVail.com. Town visitor centers (Vail) are a great spot to get a map and local recommendations. There is a phone number and email to get in touch for expert planning advice. Some activities may require advanced booking and the visitor center experts can help guide you on that! For Colorado and other high altitude visitors, be sure to drink lots of water and wear sunscreen!
Tip #5: Eat Some Amazing Food and Drinks
Is this a given? We sure hope so, but let's cover it anyways! After you study your festival schedule and figure out what time the shows are and where they are, it's time to plan your nourishment schedule! A first go-to is the sponsors of the festival. They're often local businesses who are invested in visitors, like you, to have an awesome time, so please support them! Google and yelp are also excellent leads. If you come across a place that has amazing reviews, better read their website or call to see if you need reservations. Some of the best places to eat are also the hardest places to get into! Colorado is a state that has happy hour. (If you know, you know. And if you're like what is that?) Happy hour is a time of day where restaurants will have discounted food and drinks and is a great value meal. Typically, they end by 4 or 5pm, so it's perfect before you catch the night time comedy show.
When in Vail, Colorado, here's a few suggestions:
Sweet Basil (Google Maps) Voted #1 in Colorado by Zagat Survey, Sweet Basil has been a must for travelers and locals alike since 1977. The cuisine is creative contemporary American utilizing many cultural influences from around the world. Located in the heart of Vail Village, the restaurant blends fine dining with a captivating trendy energy.
Root and Flower (Google Maps) Offering 50+ by the glass pours of wine, an extensive and interesting bottle selection, craft cocktails, and an ever-changing food menu. These offerings distinguish Root & Flower as one of Vail's most versatile watering holes and restaurants. Owned and operated by longtime Vail locals, it is an approachable spot for just a drink and a snack, as well as your big night out.Loaded Joe's (Google Map) You can start your day here with coffee and end your night here with drinks. They're more than just the best cup of coffee – they are a place where locals go to enjoy the laid-back vibe and visitors get a taste of life in the Vail Valley. Loaded Joe's has you covered for all your drinks and food over the day. They often stay open late, so it can be the perfect after party spot too.