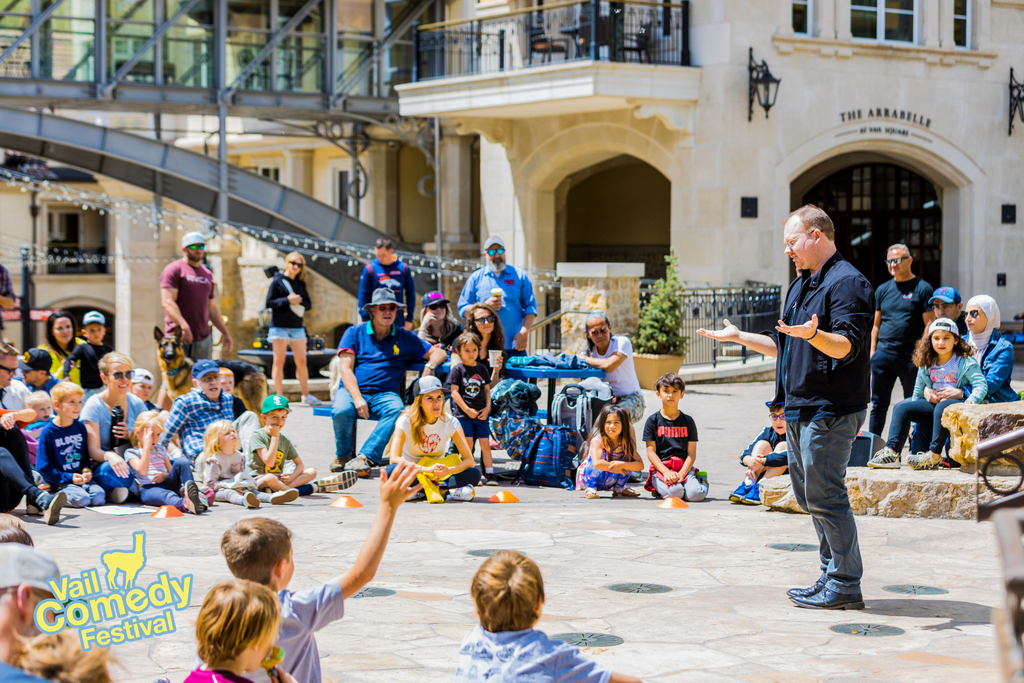 Vail Comedy Festival is back in partnership with RocketFizz Vail over Memorial Day Weekend to provide free family-friendly programming to guests of Vail and locals alike. In 2022 events at the RocketFizz stage at Sunbird Park were a hit, with attendance levels surpassing 150 smiling kids and parents.
Magician Travis Nye will be back to entertain. Free tickets are now available for two special shows. On Saturday May 27, 2023 at 11:00AM kid friendly magic entertainment will take over Sunbird Park in Lionshead. Get tickets now.
On Sunday May 28, 2023 at 11:00AM the fun will return opposite the RocketFizz store in Lionshead. Get tickets now.
The RocketFizz stage at Sunbird Park is located above Arrabelle plaza opposite the RocketFizz store. Free parking is available a short walk away at the Lionshead Parking Structure. Ticketed attendees are encouraged to use public transportation or bike or walk to these events.
"Having a partner like RocketFizz step up again to help make Vail Comedy Festival possible in our second year is so important. Without support from the local business community the entire three day event would not be possible and Adam Pena the owner of RocketFizz Vail is a big reason we were able to come back again this year" said Mark Masters, the founder and organizer of Vail Comedy Festival.
Travis Nye will also be hosting a magic show for teenagers and adults. The show will be free for festival pass holders, and individual tickets will be available online and at the door. More info available soon.
"RocketFizz is your one stop shop for candy and soda pop. We've been a sponsor for two years now. We really believe in giving back to the community and not just for adults but for kids too. We are excited to have magic shows outside our store in Lionshead again and look forward to a great event and are happy to be part of a great experience for all the people in Vail" said Adam Pena, owner of RocketFizz Vail.
RocketFizz can be found on Facebook here.